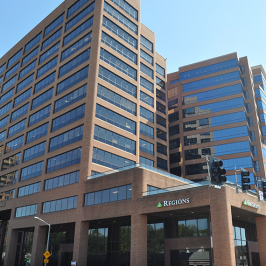 278,800 square feet and 14 stories of classic beauty.
Completed in 1986, the all brick Regions Centre is elegantly complimented with limestone accents and generous landscaping around the building perimeter. The high-rise measures 278,800 square feet over 14 tenant floors, located at 8182 Maryland Avenue. A five story glass atrium bridges the adjoining Forsyth Centre and 345,000 square-foot parking garage. With close proximity to area highways, and the prestigious Maryland Avenue address, the Regions Centre remains one of the most sought after office locations in the greater St. Louis area.
Walking distance from more than 60 restaurants, first class hotels and personal services, the Regions Centre's location is in a class by itself. Close proximity to area highways and Metrolink stops allow tenants short commutes to downtown, sporting events, the airport and home. 8182 Maryland Avenue remains one of the most sought after office locations in greater St. Louis.
Multi-redundant building security systems include: 24/7 security guards, digital video surveillance, magnetic card access and multi-point guard tour systems.
Computerized mechanical, lighting, energy management and HVAC controls operable by magnetic card readers.
Otis Elevator Lift-net system designed to reduce elevator wait times to a minimum at key peak traffic times.
The Regions Centre is locally owned and operated, and the owners office is within the complex.
Common ownership of the adjacent garage and office building allow for flexible and creative expansion opportunities.
Closely held ownership group is able to react quickly to market conditions allowing timely, creative solutions for your office needs.
Newmark Zimmer leases the Regions Centre.